I'm a sensual, unique Goddess and you will know this from the very first second you lay eyes on Me.
I know the power this gives Me. You will do whatever I want just for me to notice you or maybe even give you a smile. I love playing with this idea and power, which means I love playing with you!
I will give you hope, I'll be close to you and I will fill you with desire. But just when you are enjoying yourself, I will take that hope away and replace it with despair and if you're lucky, with the thing you really crave. Pain, humiliation or all the other sweet things that you did not know you needed until I introduced them.

I really enjoy to see you squirm with discomfort, embarrassment or pain. By using whips, electro, needles, CBT or just my hands or my voice. Every sigh, or groan of pain from you brings a smile to My face. You will mostly see Me smiling during our play. I will make sure to use every inch of your body and mind for my pleasure.

I do not hate men. I like to build My subs up and give them their ultimate submission and surrender to Me.
More then they knew they had in them.
My domination comes natural. I don't need to raise My voice for you to submit to Me.
You yearn to place yourself at My feet.
You need to be dominated, seduced or humiliated by your Superior. Do you fantasize about being taken with my lovely big strap-on? Or do you have another secret that I need to know about …
You can come to me for a soft and erotic session, or for a more intense session, I enjoy both. We can only achieve a session that is pleasurable and fulfilling when you're honest and open. So do not bullshit Me.
I am by nature empathetic and kind. But know that in our session I will use you for My amusement without hesitation.
If you think you are worthy to find delight through pain or humiliation, show me your dedication. Be concise, be polite and be patient when you communicate with me.

I have My specialities and favourite things to do. This doesn't mean I am limited to these preferences, but will let you know a little more about Me.
The thing I absoluty love and is a big part of every scene that I play, is Tease and Denial.
This is the one that I just can't do without.
Make sure I will be giving you a hard time, turn you on and deny you your pleasure until you start to squirm and beg. Of course I LOVE taking you with My strapon and pegging you all through our time together.
Other things I very much enjoy are using electro on you, turning you into My perfect little sissy slut, giving you JOI (jerk of instructions), being worshipped, trampling, facesitting, caning and fisting.
Of course I can do more than this, but these will give you an idea of My loves and likes.
Also possible are flogging, whipping, sounding, wax play, needle play, fishhooks, CBT (cock and ball torture), bondage, a golden shower, forced bi, ballbusting, mummification, role play, latex play, and much more.
If you have a special request for your booking, let me know. I don't scare easily, so just be honest.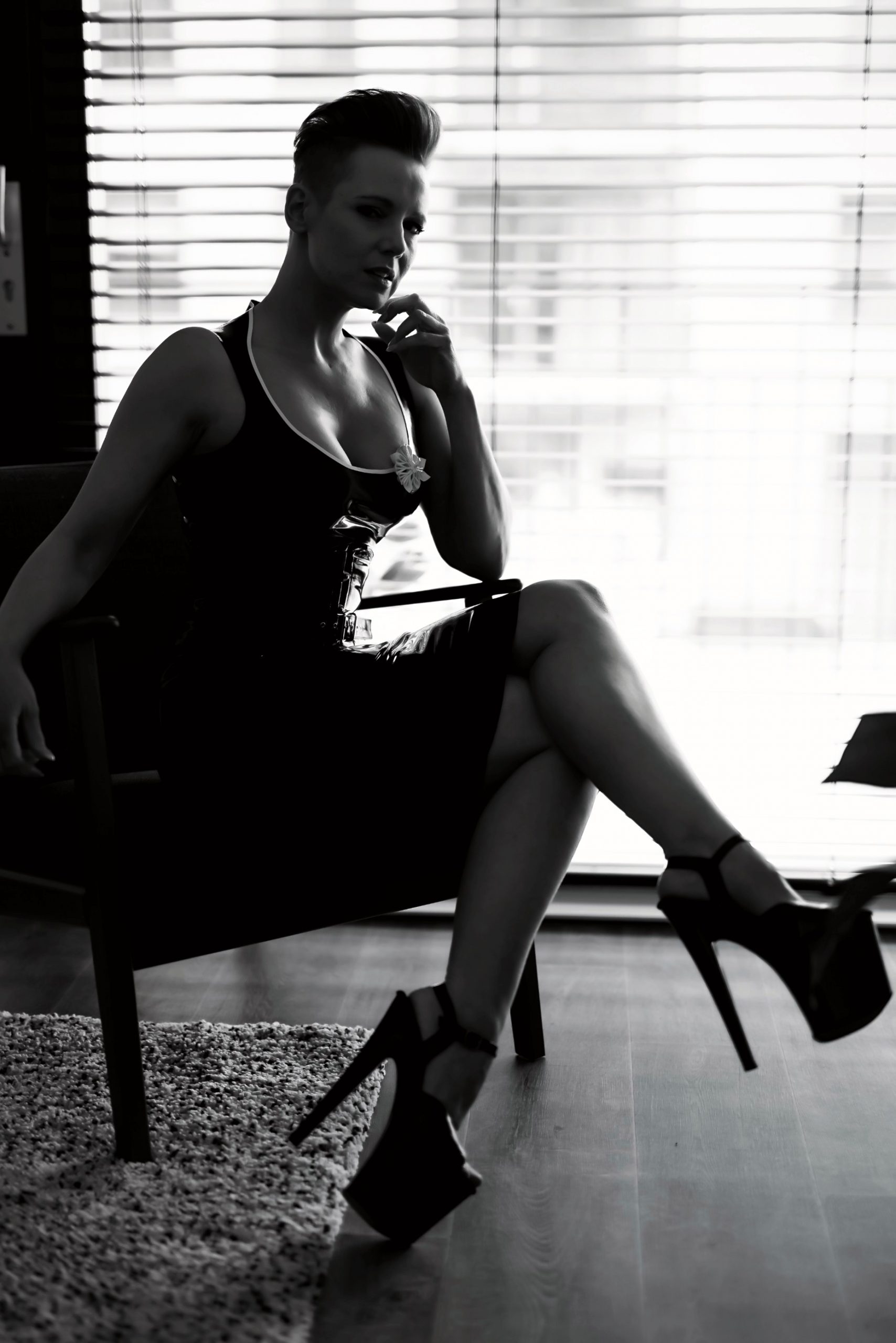 Almost 24 hours later and still recovering mentally from my session with Mistress Eve…. New Mistress, new studio, new setting. During this first session, she has already pushed and stretched
boundaries. I've never been this out of breath after a session.
She is enchanting, breathtaking and absolutely peerless!
Mistress Eve, thank you for my first training session. It was amazing and delightful. You where way to kind for me. And those eyes… Damn they where great ! I really enjoyed to see you enjoy getting to use this virgin slave.
We are most definitely pursuing this. I'm very greatful to have been in your hands and under your control.
Join my VIP list
BE THE FIRST TO KNOW ABOUT NEWS AND MY SCHEDULE
Become my VIP.
You will be the first to know about my schedule, tourdates, new social media platforms and much more. I will be sending no more then twice a month.